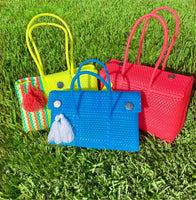 100% Handwoven Bags Made In Mexico
Handcrafted by creative and powerful Mexican artisans in Jalisco, Mexico. Each bag is truly a one of a kind piece, using polyethylene plastic stripes that are double-weaved with different patterns and colors on a box loon and takes at least 2 days to complete.
Bags made by hand are produced with more than 2 tons of recycled plastic per week. The material is low-density polyethylene, commonly used to produce plastic garbage bags. 
Shop Handcrafted Purses
Follow Our Instagram @nellynayofficial